We're CoolNew PDF
We are a Hong Kong company located in Central, Hong Kong, mainly focused on the development of office collaboration software.
Coolnew PDF is our first product for the world, our team from the beginning of more than 10 people to more than 300 people now we are committed to creating a simple, affordable office software, so that users in different countries around the world can use a variety of office software at affordable prices, thereby improving the efficiency of the user's office.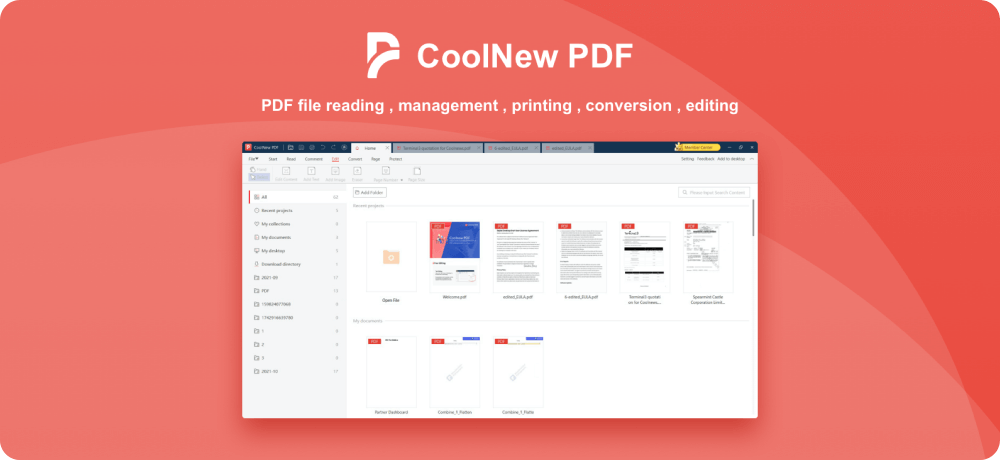 "Editing a PDF is such a pain!"
"There is no true flexible and cost effective one-size-fits-all solution for PDF editing"
Common PDF misconceptions right? Not anymore! Presenting a cool new PDF Editor for Windows with all the tools you'll need to be more productive. All in a single click!
CoolNew PDF offers an all-in-one experience to make PDF editing easy – A solution to all your PDF Problems! Create, modify or delete text, insert, stamp, whiteout & highlight paragraphs, split files into single pages or individual PDFs… basically play with your PDFs however you like!
Features of This CoolNew PDF Editor
Text Editing – Recognizable text will be selected, and the text properties and paragraphs can be adjusted in the property bar on the right.
Page Editing – In addition to editing the text and images in the document, you can also erase Content, resize page, Add Watermarks, page numbers, rotate the page.
Advanced Printing – Various ways to print all or part of a specific page , including single-sheet printing , multi-page printing , invoice printing , and support for batch printing.
Multiformat Interconversion – PDF converter converts PDF files to Word, Excel , PPT, CAD, TXT, and image formats, You can also convert these formats into pdf files in batch.
PDF Operation – Addition to converting formats, PDF Converter can also split, merge, encrypt, extract, compress and other operations on documents.
Comment Management – Click the "Comment" menu, select the note tool, you can annotate in the page, the added comments can be viewed and deleted in the left comment bar.
CoolnewPDF can be logged into unlimited computers (only Windows,)with one account, unlimited number of devices, hence suitable for teams, enterprises & companies too! Includes lifetime upgrades for free!
Coolnew PDF has been released in Hong Kong, China mainland Taiwan market for more than 7 years.
We have more than 300 million users in China mainland and Hongkong.
For the global market, Coolnew PDF is a brand new product.Due to our 7 years of product experience in Hong Kong and Mainland China.
We are committed to providing the most cost-effective, full-featured and easy-to-use PDF software for global users.
Our aim is to provide users with the lowest price for the most cost-effective, best service PDF software.
Email: Support@coolnewsoft.com
Company: Spearmint Castle Corporation Limited
Address: UNIT 1003,10/F, TOWER 2,SILVERCORD 30 CANTON ROAD,
TSIM SHA TSUI KOWLOON,
HONG KONG